This is a throwback to July 2017 and a bicycle tour which took me from Scotland and England, over the North Sea, to the Netherlands and Germany. I published a photo and video-centric article earlier, but I found it hard to write anything meaningful about my experiences. Probably because so many things could have gone better, and the tour was not really the one I had planned before departure.

But now that some time has passed, I finally found the inspiration to look back and write, at least about the first part of the tour: Scotland and the Hebridean Sea. This is the tale of how I ended up in the Outer Hebrides by accident, and what I experienced while cycling the Scottish islands and coast.

I found myself with my bicycle at the Oban railway station, on the western coast of Scotland, on June 1st 2017. It was late on the day I was supposed to be starting my long-dreamed and well-planned cycling tour in the Shetland Islands, about 500km northeast from where I was actually in. After some days in Shetland I was supposed to ferry myself to Orkney, cycle thru the Highlands and eventually to England for a ferry over the North Sea, and more cycling in the Netherlands and Germany.
That plan went out the window after I had problems with both my outgoing flight from Finland and trains in Scotland. I missed critical connections, and so the Northlink ferry I had tickets to departed without me from Aberdeen, while I was left in Edinburgh wondering what to do. Due to a busy season, new northbound train tickets with a bicycle reservation included were impossible to get on short notice.
I could have cycled south and spend most of my time in England. But I really had my eyes set on visiting Scottish islands and maintaining the "Cycle the Sea" theme I had set for the tour. Eventually I found a train connection to Oban which had room for a bicycle as well. Oban is a gateway to the Hebridean islands, and my new plan was a circular tour around the Hebridean Sea starting and ending in Oban, and then returning to Edinburgh via train. This allowed me to head towards the single-track island roads I had been dreaming of, and still give me time to cycle a while from Scotland to Northumbria towards the ferry to the Netherlands.
So I tried to forget about the problems and bought tickets for a Caledonian MacBrayne ferry from Oban towards the island of Barra on the Outer Hebrides. I had always wanted to visit these islands anyway.
Before departing I did a quick shakedown cycle trip on the neighbouring
Isle of Mull
to make sure all was set with the bike and my gear. A few hours on the quiet mountain roads provided a good test for both my bicycle and my rain gear.
Finally I was properly on tour, as the CalMac ferry left me and also some other cycle tourists on the island of
Barra
. The weather was glorious. After first moments on the single-track roads going by sandy beaches, my mood got a lot better and things started to feel proper. This part of the world seemed special from the first moment.
I found my place among other campers and cyclists on the small isle of
Vatersay
, which is connected by a causeway to Barra. I set camp for the night at a locally dedicated 'wild camp' spot next to an island Community Hall. The evening was spent walking among the beaches, admiring the sea views and enjoying the weather – which could have not been better.
The next day was as fine as the previous one, as I cycled towards the short ferry connection between Barra and Eriskay. I met quite a lot of the other cycle tourists who had boarded the same boat from Oban, which was nice as in my previous tours in Finland and Norway I've met pretty much nobody on a bicycle – probably due to the route choices and seasons more than any real lack of cycle tourism, in Norway at least. After reaching Eriskay these encounters became more rare though, as people went on different ways and speeds.
Eriskay is a small island connected to the islands of
South
and
North Uist
by a causeway. I spent two days cycling around the Uists, which were easily some of the finest cycling days ever. The scenery on the islands is amazing, changing from the sandy beaches to Laplandish fell and lake views. Traffic was quiet and every car that approached gave way and waved on the single-track passing places.
I don't know how much of the people I saw were local people and how many were tourists, but it was apparent that there is a real feeling of tradition and community here among the locals. More than once when I was stopping for lunch or coffee I overheard people discussing things like local musicians and ceilidhs – social gatherings involving folk music and dancing.
After camping for the second night on North Uist, I started to make my way towards the town of Lochmaddy and the next ferry towards
Isle of Skye
. I had been to Skye once some years ago, and was prepared for bigger mountains – and also increasing traffic. The main road that goes through Skye is not very popular with some cycle tourists as there is quite a lot of people on Skye in summertime. I had it pretty easy though, drivers were friendly and the mountainous parts of the road were comfortingly quiet.
I started on Skye in the morning, and eventually ended up cycling through the whole island in one go. The weather was getting worse, with heavy rainfall making it's way in, and I wanted to get out of the mountains and camp close to the southern end of the island. I was headed for the next ferry, to take me from Skye to the town of
Mallaig
. I ended up cycling past sunset and pitching my tent in a rush in the darkness. Rookie mistake – I should know to always set camp before sundown.
Still, I did not worry too much, as my tent is quick to pitch and the evening was nice. I was camped on a quiet beach and the day had been good, though pretty long. After eating supper I retreated to read in my sleeping bag – but was soon surprised by the sound of a seal barking and making landfall from the sea next to my tent, maybe fifteen meters away. I got my camera, opened the tent zipper – and splash, the seal was back in the sea instantly as it heard me! No chance to take a picture.
That was one of the moments that won't easily be forgotten… And so was my wake up the next morning – just not in a positive way.  I ended up paying for my lateness and sloppiness in setting up camp, as I woke to the feeling of water in my sleeping bag. A heavy rainfall had arisen during the night as forecasted – and one foot end peg of my tent had unfastened sometime in the night and the outer fabric was loosely flapping in the find. So when I woke, it was raining directly in to my tent, the tent floor was flooded with water and my sleeping bag was soaked.
It was early in the morning, about six hours before my ferry would leave. I knew I had to get on the move, I did not want to stay put in these conditions with no way to dry my gear. I decided I need to get indoors for at least the next night to dry my sleeping bag. The only thing I could do was to pack up things and cycle for the ferry pier about 5 km away. Long hours to wait for the ferry were spent taking shelter in a bus stop and keeping myself warm by walking.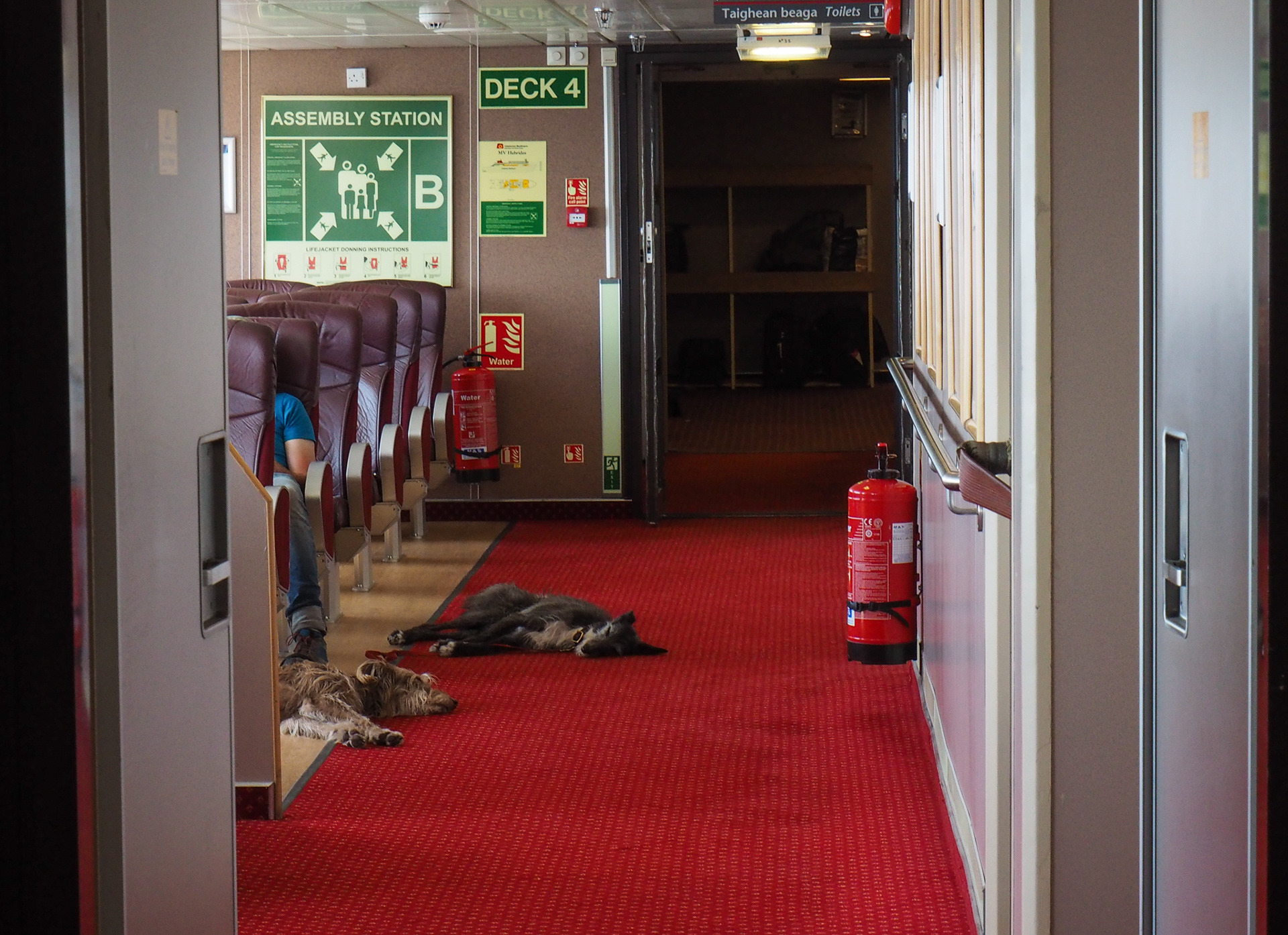 So when the hours went by and the Skye-Mallaig ferry finally arrived, I started to continue my way after getting some breakfast in Mallaig. I also checked for any possible accommodation there, but all the local hotels and b&b places were all full. I continued on my route, hoping that I could find a place for the night to dry my gear. I was on the Lochaber area coast and the days ride through lochs and mountainous views was stunning, even though I was soaking wet.
But the rain ended during the day, and when I arrived to the shores of Loch Sunart I was met with a surprising kindness which totally made things better. During the day I had passed many small hotels and b&b places, all of which were fully booked. However in Salen I met a b&b owner – whose own place was fully booked also – but who called her friend 15km away, found a room for me and even drove me and my bicycle there with her Jeep.
I was already planning on how to camp at least somewhat comfortably for one more night with my soaked stuff, but I was glad to get a lift to 
Heatherbank Guesthouse
. I got to dry my clothes, tent, sleeping bag and enjoy the hosts, Deb and Chris's, hospitality. I stayed for two nights and decided to take it easy and enjoy the surroundings. I spent my free day taking a leisurely day hike around the nearby
Ariundle Oakwood Nature Reserve
, and spent my evening in a local restaurant, which happened to have a local folk ensemble playing at dinnertime.
After staying in Heatherbank, I had one more leg of cycling to do before reaching Oban again. The day was sunny once more, and the route took me through a very varied landscape. The empty road went from barren fellsides to lush oak filled woodlands and back, and two more short ferry trips were spent admiring the archipelago.

So in the end the sun dries what the clouds have showered, as always. On my last kilometers on this island trip, I was feeling good as I passed quickly by Isle of Mull again and headed to Oban for a train that would take me back to my original route in Edinburgh and towards England.
Even if the first part of my summer tour was shorted than I planned, and in a different region, I have good memories and the experience was fantastic in the end. Some learning experiences, but that's cycle touring. Scotland is unique, and the Scottish islands especially so. Now I just have to make sure I will find myself in Shetland and Orkney at a later date. And also hopefully one day explore the rest of the Hebrides.
My tour was continued in England and mainland Europe as planned. If I find the time, I may write about those experiences as well.